Lyjon Electrical division provides a full spectrum of electrical and instrumentation services covering design, installation, commissioning, testing and technical support. Our clients include GrowHow, Innospec, Prinovis, Sone, Design Houses and Commercial Clients
The sectors we operate in are:
Construction
Industrial
Commercial
Paper
Process
Utilities
Education
Pharms
Food
You can rely on us because:
We do as we say we will do
We think about what we do
We operate to ISO 9001, ISO 14001 and OHSAS 18001
We work with you to achieve your objectives
What this means for you:
Better value for your money
Commitment to quality
Professional
Dedicated
Delivering excellence
Vision
To deliver customer satisfaction to the highest standards of quality and to be the preferable electrical and instrumental contractor or choice.
Mission
Strive to deliver all projects on time, to budget, to the performance specification, safely and keeping our environment clean. To help us achieve this we will:
Establish, maintain and continually improve a 'Quality Management System' that meets the requirements of BSENISO 9001:2000.
Establish, maintain and continually improve an 'Occupational Health & Safety Management System' that meets the requirements of OHSAS 18001:1999.
Establish, maintain and continually improve an 'Environmental Management System' which meets the requirements of BS EN ISO 14001:1996.
Sustainability
We will always consider the way we go about our business with sustainability in mind, including educating our people and local communities for effective protection of our environment, prudent use of natural resources and the maintenance of a high and stable level of economic growth and employment. Civil Engineer Contractor, Industrial Construction Contractor
Download Our Profile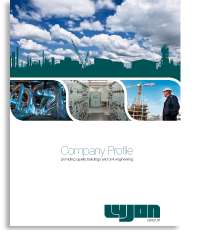 Please complete the following to access your free copy of Lyjon's Company Profile 2014.
Watch our Video