Lyjon Construction provides new build, project management, design & build, refurbishment and planned maintenance contracts to as large variety of clients including Knowlsey Housing Trust, Cheshire West, and Cheshire Council, Alpha Housing, Georgia Pacific, GrowHow and Mersey Tunnels. Established in 1964 and committed to quality and high levels of customer service has enabled us to obtain and retain clients from the beginning setting us apart from our competitors.
The sectors we operate in are:
Social Housing
Local Authority
Industrial
Commercial
Education
Design & Build
Paper
Utilities
Chemical
Oil
You can rely on us because:
We do as we say we will do
Your project will be managed by a professional and responsible contractor with ISO 9001, ISO 14001 and OHSAS 18001 accreditations.
We work with you to achieve your objectives
We have been in business for over 50 years of  and continue to work with clients for over 30 years (we must be doing something right)
What this means for you:
Better value for your money
Commitment to quality
Professional
Dedicated
Delivering excellence
Vision
To deliver customer satisfaction to the highest standards of quality and to be the preferable building and civil contractor of choice.
Mission
Strive to deliver all projects on time, to budget, to the performance specification, safely and keeping our environment clean. To help us achieve this we will:
Maintain and continually improve a 'Quality Management System' that meets the requirements of BSENISO 9001:2000.
Maintain and continually improve an 'Occupational Health & Safety Management System' that meets the requirements of OHSAS 18001:1999.
Maintain and continually improve an 'Environmental Management System' which meets the requirements of BS EN ISO 14001:1996.
Sustainability
We will always consider the way we go about our business with sustainability in mind, including educating our people and local communities for effective protection of our environment, prudent use of natural resources and the maintenance of a high and stable level of economic growth and employment. Civil Engineer Contractor, Industrial Construction Contractor
Company Profile
Download our company profile, this describes more about us, details our insurance details, company information and project track record.
Complete the form for immediate access.
Download Our Profile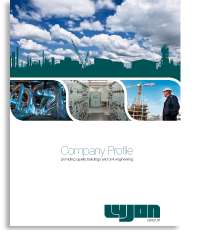 Please complete the following to access your free copy of Lyjon's Company Profile 2014.
Watch our Video