Lyjon Group
Lyjon Group is a unique technical contractor with a passion for results. We are a Commercial and Industrial contractor that has grown with our customers by delivering measurably more value.
Whether it is a multi-million-pound technical facility or a social housing refurbishment, we execute every project with relentless accountability. We listen to your objectives. We develop strategies based on your business. We track our performance. We do everything we can to earn your trust and build great lasting relationships.
Established since 1964 and based in Ellesmere Port, Cheshire, the company has built an excellent reputation for delivery of a "QUALITY" service targeted at small to medium sized construction contracts.
We have been working with a number of customers for over 35 years demonstrating our commitment to deliver value.
At Lyjon we are passionate about what we do and welcome the opportunity to discuss how we can help your company build or improve your building assets.
We carry out projects from the value of £10,000 up to £1,500,000 and all projects are carried out to ISO 9001, 14001, and OHSAS 18,001 standards.
Please complete the form to your right and download our company profile. This explains our approach and describes our track record.
Take a tour around the site to learn more. You can contact us from our contact page or simply give us a call on 0151 355 8464 and we can see if we can help you achieve your construction objective.
Contact Us
Download Our Profile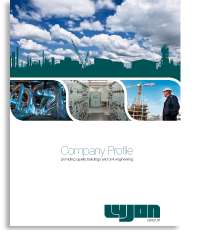 Please complete the following to access your free copy of Lyjon's Company Profile 2014.