SIMS Metal Management Ltd Ellesmere Port Lead Recovery from Glass

Year:              2013                                                          
Duration:      20 weeks
Value:            £250,000
Project
SIMS Metal Management Limited has built a commercial trial plant to recover lead from funnel glass of Cathode Ray Tubes (CRT). The Site is owned by the client and the plant is to operate as a separate chemical processing unit to the existing metal recycling facility.
The new plant is housed within an existing steel portal framed warehouse with loading and unloading facility.
Three storage tanks and a knock out tank were installed within the new reinforced concrete bund to contain potential spillage with a further four smaller tanks, a reactor and two centrifuges were installed within the process area on individual concrete plinths with an access platform around the tanks to provide access on three levels and for charging the Na2S tank.
An external road tanker off-loading apron with a pump raft, a gas oil tank diesel generator and a cooling tower are all located adjacent to the gable end of the portal frame warehouse. Two steel access ladders are to be provided for access and egress into the bund.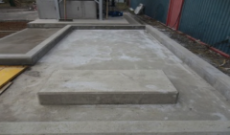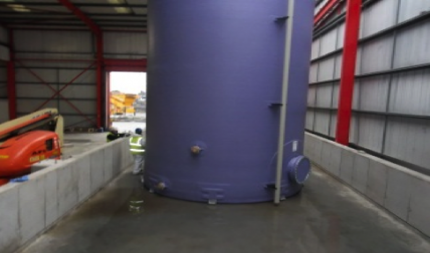 A new concrete road tanker off-loading apron was constructed which is to provide a containment area suitable to contain any spillage from the road tanker off-loading procedure, the area was laid to fall with a concrete roll over kerb to either end with a drainage channel and blind sump for containment and treatment of any spillage.
An area of existing concrete road slab was broken out to allow construction of the new road tanker apron and pump base, a pump slab and plinths were constructed for two tanker loading/offloading pumps which was located next to the tanker offloading apron.
A new cooling tower base was constructed behind the gasoil tank and the new cooling tower was built off the existing slab. The new diesel generator compound was constructed behind the cooling tower and the new compound was built off the existing slab.
An access platform was erected to provide access to the tops of the tanks and reactor vessel, this is on three levels with a staircase linking each level, escape ladders were also installed to provide egress from all three levels of platform, two centrifuges where installed, these will be supported off the lower level new steel platform structure.
Two safety showers where installed one inside the building and one outside adjacent to the tanker loading apron.
Lyjon Group ensured that all civil and structural designs were fully compliant with the approved planning permission received from the local planning authority.